May 2, 2007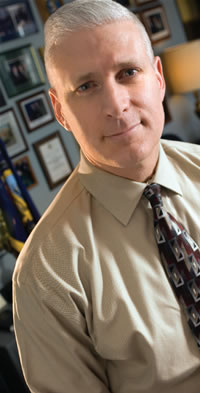 To say that Pennsylvania State Police Commissioner Jeffrey B. Miller, '01 MPA, is driven is an understatement. He decided around junior high age to be a state trooper and centered his life around that. He took Latin in school because he knew that was the root of the law. He took the test to become a trooper while working on an associate degree at the University of South Florida, then put his higher education plans on hold when he joined the Pennsylvania State Police Academy as soon as he was old enough. (Having just turned 21, he became the youngest member in his cadet class.) After becoming a trooper, he returned to college, earning a bachelor's degree from Elizabethtown College and master's from Penn State Harrisburg. At the same time, he worked his way up through the State Police ranks, and in 2003 Gov. Edward G. Rendell nominated Colonel Miller as commissioner and the Senate confirmed his appointment. At the age of 40, he became one of the agency's youngest leaders ever.
He starts his days with a four-mile run – usually in the dark because that's the only time he has available – works long days, and maintains a travel schedule akin to a commercial pilot's. Besides visiting at least half the agency's 90 stations each year, he is called upon to speak and teach at stops all over the country.
During a rare break in the action, he shared some thoughts with Currents.
The Energizer Bunny
Miller guesses that people describe him as being like the Energizer Bunny – "he just keeps going." Long-time associate, Captain Lynn Hess, says with a smile, "He's a hard charge. But we work well together."
JM: "People who have worked with me probably describe me as someone who is very driven, focused, determined, and sometimes impatient. I would throw in a caveat on that one. When someone needs something from me, I go out of my way to make sure they get it right away. So when I need something as part of my job I expect reciprocity. I am a focus-driven person and I try to get the most out of every minute of the day. There is a lot to get done and there is just not enough time to do it all."
Moving up the ranks
Miller began as a trooper on patrol duty with later stints in undercover narcotic operations and criminal investigations, as a station and a troop commander, and as a central office administrator. Experiences he wouldn't trade, these roles, he says, prepared him for his current job.
JM: "I had experience in a lot of good, challenging positions. Being a trooper on the road is one of the most rewarding things you can do. I enjoyed that opportunity."
"Most of my career was in operations. I was a section commander doing criminal investigations in Philadelphia. I was a station commander in Schuylkill Haven. I ran our largest troop, Troop H in Harrisburg, for five years, and then I had the opportunity to be director of legislative affairs and policy for the department right before I became commissioner. I had an opportunity to see how the General Assembly works, and to impact the passage of legislation."
"When Gov. Rendell appointed me, I thought it was very helpful that I had this base of experience. It is much easier to lead a large organization when people know you've done the job and you're not asking people to do something that you haven't done."
Leading the state's top police agency
Miller's is the widest-reaching law enforcement agency in Pennsylvania, covering all 67 counties, and 85 percent of the land mass, with a complement of 4,300 troopers. It also plays a significant role nationally. And while Miller's role comes with many challenges, they don't dampen his desire to serve nor diminish his appreciation for those around him.
JM: "We are the first State Police force of our kind in the country. We are almost 102 years old and counting me there have only been 18 commissioners in the history of the department. It's simply a great honor for me to do this."
"We are a big part of policing in Pennsylvania. But we're not just the State Police. We are also an influential player in state and regional law enforcement, and actually in the national law enforcement community. The decisions we make and the way we do things has to be respectful of that position and we try very hard to make certain that our decisions are in the best interest of Pennsylvania and in the best interest of law enforcement. Even when you do that, somebody or some group still will be unhappy with you. All you can do is your best.'
"I am glad to lead the organization, but my heart is with the troopers who are out on the street doing the job every day because that is the most important job we do."
"Fortunately, I have a wife and two daughters who are supportive of me and my job and have always been supportive. They understand what I deal with daily, including the demands of the job, and the hours involved."
Pressing issues
According to Miller, counter-terrorism and gang activity are two of the biggest challenges facing law enforcement agencies everywhere.
JM: "We have some issues unique to Pennsylvania, but most of our major issues are ones that other law enforcement agencies are facing, like gang activity and counter-terrorism. We are involved in everything from related federal programs to helping out our cities which often don't have the resources to handle everything, whether it's undercover, intelligence, or aviation resources, we try to do our part to help them."
"Gang activity and associated violence have gone up nationwide. We are trying to stem it by working closely with cities and municipalities and with the federal government – the Bureau of the Alcohol, Tobacco, Firearms and Explosives, the FBI, the U.S. Marshall Service. Gang activity is going to continue to challenge us for a period of time."
"Homeland security and counter-terrorism is another area we are involved with more than I think a lot of people realize. I actually have troopers assigned in New York who work directly with the NYPD. A great deal is going on in this regard and again we partner with [regional and federal agencies and task forces]."
The Nickel Mines tragedy
Last October, a gunman opened fire in an Amish schoolhouse in Nickel Mines, Pa., killing five young girls and injuring five others before killing himself. Local state troopers were on the scene and Miller was thrust into the international spotlight as news coverage of the horrific event spread worldwide. Miller has been praised for his handling of the situation, which was made more complex by concerns about the cultural differences and religious beliefs of the Amish.
JM: "In this line of work, you never know what you are going to confront on any given day. Those troopers came to work that day obviously having no idea that they would be called to respond to a situation such as that. It is almost impossible to prepare for every eventuality that could befall you on any given shift, but we try to train our people to be able to react and respond in a way that maximizes their ability to save lives. And the troopers on the scene did just that. I'm proud of them, because if not for their actions, I believe more children would have been dead."
"I was there because I felt the magnitude of the incident required the agency's CEO to handle it. But I also felt that [because of extensive training], I was probably in the best position to handle the media in a way that would preserve the investigation but not infringe upon the Amish community in a way more invasive than necessary."
"[Out of respect for] the obvious cultural differences of the Amish, we did have to change how we responded. But we still had the responsibility to do a massive homicide investigation. To the degree that we could, we bounced things off of their bishop and let him know in advance what we were going to be doing so he could give us some feedback and also be the go-between with the community, to brace them and prepare them for certain things. And I think that was helpful. And I would like to think that we would have handled it very similarly in any other environment, it was just that there were some cultural differences here that we needed to address."
Teaching in the aftermath
In the months since the Nickel Mines tragedy, Miller and his staff have used their handling of the experience to help others. He says this helps, at least, to bring something positive from such an event.
JM: "Anytime you have something bad happen, people learn from it. We ask, 'How can we do our jobs better next time?' You don't want to just experience it and then keep it to yourself. We have an obligation to share what we learned from it."
"I've been asked to speak all over the country and my staff and I have done as many of those engagements as we can. This unfortunate incident happened in our backyard and we're obligated to go out to our brother and sister officers whether they are in the federal government or at the state level and provide information on what happened and what we learned and on the tactics that we used to handle the investigation and the news media, and to work with the community."
"The Nickel Mines incident was something that deeply affected everyone who was there. I know it is something I will carry with me for the rest of my life."
Gaining an edge
Colonel Miller's office is neatly packed with family photographs, mementoes like the U. S. flag that flew atop the Capitol the day he was sworn in, plaques and awards, pictures of him with presidents and professional athletes, and stacks of work papers, meticulously arranged on his desk. Front and center is a Nittany Lion statue, a gift from when he spoke at Penn State Harrisburg's Commencement in 2003. Prominently displayed behind his desk is his Penn State diploma.
JM: "I looked at a number of Public Administration programs and I really felt that Penn State's course selection was not only most what I was looking for, but a better representation as to what I hoped to achieve. I also thought the course of study was more rigorous than I saw at some other places. It was good for me. It kind of gave me a base from which to operate."
Next steps
Miller doesn't foresee leaving his current post any time soon. But when he does, a life of leisure is not on his agenda.
JM: "Right now I'm focused on this job. The governor has expressed to me that he is happy with the job I'm doing and I think we have some things that we still have to accomplish. So I'm focused on that."
"At some point I'll have another career – I came on this job kind of young. I'm not exactly sure what that is going to be, whether it will be in the private sector or government or policing...but I am sure that I'm not the kind of person to retire and play golf. I still have a lot to offer and I want to be involved in something like this that I really enjoy doing, that I can throw myself into and make a difference with."