May 28, 2015
Students in Penn State Harrisburg's School of Science, Engineering, and Technology showcased their best innovative technologies representing the future of their field at the formal showcase.
The senior projects for Penn State Harrisburg engineering students are a long standing tradition, where they get to combine classroom learning with real-life applications, as well as collaborate with industry sponsors.     
The more than 45 projects on display at the May 8 conference included an earbud case made with a 3D printer, a mini Baja vehicle designed to survive rough terrain, an indoor batting cage, a fully automated chessboard that allows players around the world to compete against each other, and many more.  Check out a gallery of these and other projects: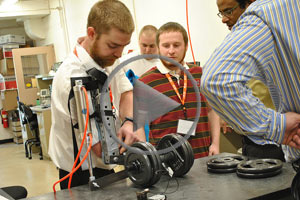 In addition to project presentations, featured speakers included Peter Tubolino, Mid-Atlantic area manager at Siemens Industry, Inc.; and Michael J. Sullivan, P.E., senior vice president, operations and engineering at Pepco Holdings, Inc.
The Engineering Capstone Design Conference is supported in perpetuity by an endowment created by TE Connectivity. Additional sponsors include Bohlin Cywinski Jackson Architecture Planning and Interior Design; Carlisle Construction Materials; Emtrol-Buell Technologies; Enders Insurance Associates; ERREx Inc; Friends of Hershey Trolley; Hirschmann; Penn State Harrisburg Intercollegiate Athletics; Penn State Harrisburg Maintenance and Operations; Phoenix Contact; Polaris; Readco Kurimoto, LLC.; and Siemens.