November 1, 2005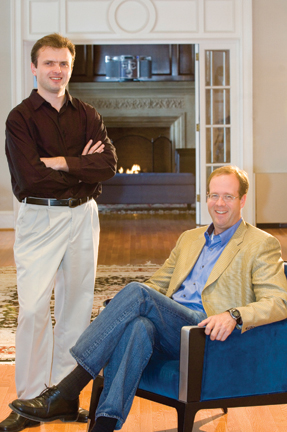 J. Alex Hartzler and Aleksandr "Alex" Guk recently donated $50,000 to establish the Webclients.net Trustee Matching Scholarship in Honor of Founder Mounir Elabridi at Penn State Harrisburg. Hartzler and Guk were instrumental in the success of Webclients, a company created by Elabridi in 1998 while a student at Penn State Harrisburg. The scholarship will aid Computer Science majors with financial need who are enrolled or planning to enroll at the college.
An Internet advertising company, Webclients grew from a two-person operation to a multi-million dollar corporation. Hartzler joined Webclients in 2000 as general counsel with other management duties. By 2002, he became a part owner and held the title executive vice president. After leading the sale of Webclients.net to ValueClick, Inc. for $141 million in June 2005, he left to become president of WCI Partners, LP, a real estate investment fund.
Alex Guk graduated from Penn State Harrisburg's Computer Science program in 2000 and was Webclients' first computer programmer. Today he is vice president of technology.
Hartzler and Guk have opposite personalities. Hartzler is outgoing and talkative; Guk is shy and soft spoken. And their paths to Penn State differed greatly. Hartzler, with an Economics degree from Penn State, jokes that as a baby he "learned to walk in the cow barns at Penn State" because his father was in graduate school there. Dr. Jefferson Hartzler is associate professor of Mathematics at Penn State Harrisburg.
Guk studied robotics at a technical college in his home country of Belarus before emigrating to the U. S. in 1997. Speaking little English, he enrolled at HACC to learn the language and later enrolled at Penn State Harrisburg because the campus "appeared friendly about transferring my credits."
Despite these differences, the two share a commitment to Penn State and to Penn State Harrisburg in particular.
"Mounir (Elabridi) came to Penn State Harrisburg and through that connection gave me and others an opportunity for which I am grateful. Giving to Penn State Harrisburg makes sense . . . a fifth, at least, of (Webclients') employees came through the Penn State Harrisburg partnership," Hartzler says. "Our relationship with Dr. Thang Bui (chair, Computer Science program) was instrumental in our ability to attract talent. Penn State Harrisburg was a very important part of making our business successful."
Guk likewise emphasizes the value of education. Working in various summer jobs, he says he learned the long hours and difficult labor that many people endure just to provide for their families.
"Many people cannot provide a college education for their children even though they are good parents," he explains. "I am happy that I can help them (through the scholarship)."
While the scholarship will affect future generations of Penn State students, Hartzler and Guk have made a mark on many already.
"I have continued to learn a great deal after my graduation thanks primarily to Alex Hartzler and Alex Guk," says Daniel Hemmerich, a lead software engineer at Webclients.net and 2003 Computer Science graduate. "Each has provided unique insights on approaches to our development of industry-leading technology and business models. They have given me great opportunities for which I am extremely thankful. The contribution of this scholarship...is a continuing demonstration of their devotion to the PSU community."