May 19, 2014
"Engineering is one of those fields that truly makes a difference in the world," said Nehwon Kiepea, Penn State Harrisburg electrical engineering major.  "There is a physical impact that you can see in engineering."
For their senior engineering project, Kiepea and his classmate, Jill Hartman, an electrical engineering technology major, designed a system to log the power produced by solar panels and wind turbines used by homeowners who want to save money on their energy costs.  These homeowners have no way of detecting the amount of power these sources can supply.  Their project would show the homeowner how much power is being produced and used, allowing them to decide how to use the sources most efficiently.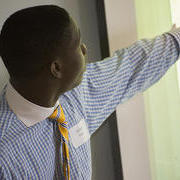 Senior projects for Penn State Harrisburg engineering students are a long standing tradition, where they get to combine classroom learning with real-life applications.  Students often collaborate with industry sponsors on projects of interest to these businesses.  At the end of the spring semester, students formally showcase their projects at the Engineering Capstone Design Conference.
See photos from the Engineering Capstone Design Conference.
"Our engineering students interactively and successfully designed and built devices and machines with applications in the areas of renewable energy, sustainability, agricultural equipment, medical and health care devices, and industrial instrumentation, among many other areas of interest," said Dr. Issam Abu-Mahfouz, associate professor of mechanical engineering.
The more than 40 projects on display at the May 9 conference included a wireless guitar, a solar tablet cover and an alternative energy workstation that uses solar panel and wind turbines for power.  The workstation will remain at Penn State Harrisburg to benefit future students.
Projects like these are physical examples of the importance of engineering.  For Zhi Hui Chen, a mechanical engineering major who helped design a cervical neck brace for his project, the importance of engineering goes back much further. 
"Engineering is basic human evolution," he said.  "From the time cave men first picked up a rock and made a tool from it we have been curious about how things work, how things can be improved and made efficient.  That is what engineering is all about."
For many of the students, the journey to the conference, while enjoyable, is not without its challenges. 
"The experience has been good," Hartman said.  "Although we did have to make a couple of changes and do some trouble shooting."
Joseph Felice, a mechanical engineering major who worked with Chen and Evan Ross, also a mechanical engineering major,  to develop the cervical neck brace added that learning to work as a team is also a challenge.  "Determining what each team member is good at is important to the progress of a project," he said.
Aside from the challenges that go into being thrust together on a project, Felice and his fellow team members also faced a few technical challenges as well, having to discard their first two designs before finally producing a brace, the main structure for which was a mesh pattern made using 3-D printer technology.
To Ross, challenges like these are par for the course in engineering.  "Engineering is about progress and problem solving," Ross said.  "It's about improving life, progress and making strides in technology."
The team is working with a physician at Penn State Milton S. Hershey Medical Center to further develop the neck brace and already has a patent pending.  They said that their goal is to see the brace, which was designed to provide relief from neck discomfort, available at mass retailers.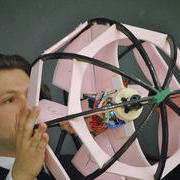 In addition to project presentations, featured speakers at the conference included David P. Wirick, general manager, ArcelorMittal Steelton LLC, and Rob Shaddock, executive vice president and chief technology officer, TE Connectivity.
The Engineering Capstone Design Conference is supported by an endowment created by TE Connectivity. Additional sponsors include ArcelorMittal, Bohlin Cywinski Jackson, Daisy Data Displays Inc., Lobar Associates Inc., Penn State Milton S. Hershey Medical Center – Surgical Innovations, Hirschmann Automation and Control Company, Case New Holland Company, Buell Fisher-Klosterman, Pennsylvania Air National Guard, Pfizer Incorporated, Newton Engine Corporation, Dr. Peter Alagona, Carlisle Construction Materials, Manitowoc Cranes.