November 1, 2005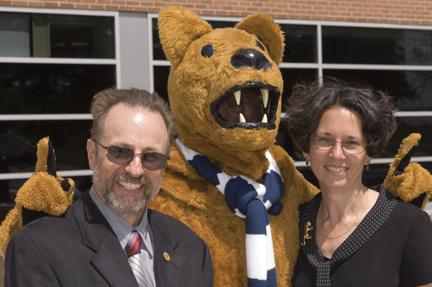 Richard Ziegler's generosity has not only provided an impressive enhancement to the Penn State Harrisburg campus, it has created a new model of giving for the entire University to consider.
When Ziegler Commons adjacent to Olmsted Building was dedicated in August, it marked the first time in the history of Penn State that a donor was the builder of the project being donated.
As a major ingredient in the college's master planning process, the design of the campus has purposefully tried to create space where people can feel comfortable gathering and talking. The initial concept for a simple patio outside the Olmsted food service facility was quickly discarded as not meeting the overall needs for space supporting large community programming.
When presented with the concept, Ziegler quickly stepped forward. The owner of R.E. Ziegler Remodeling and Construction Co., he not only provided the philanthropic support for the expanded 8,500-square-foot project, he committed his company to its actual construction, donating time, energy, labor, and materials. He also incorporated amenities such as electrical service so the new space will also support outdoor programming such as Club Fest, cookouts, live entertainment, and Spring Fling.
Director of Development Marie-Louise Abram reports Ziegler's gift is one of the largest ever received by Penn State Harrisburg.
At the dedication, Senior Director of Student Affairs and Enrollment Services Donald Holtzman said, The result of Richard Ziegler's labors stand before you:
A place where people can feel comfortable stopping and talking;
A place where campus activities will bring our community together;
A place of rest, celebration, and intellectual dialog;
A place that will forever shape and influence who we are as a college community.
Ziegler decided to donate time and materials to build the commons after touring the campus. Seeing everything else going on and all the changes they are making there, I wanted to be a part of it, he said. It looks pretty neat. I'm proud of it.