May 1, 2007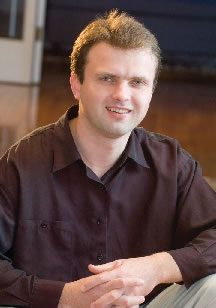 Mechanicsburg resident Alexander Guk's rapid ascent in the business world has earned him a prestigious Penn State recognition.
The vice president of technology for the Harrisburg-based Webclients Internet firm, Guk recently received the Alumni Achievement Award from the Penn State Alumni Association during ceremonies in University Park.
The Alumni Achievement Award recognizes alumni 35 years of age and younger for their extraordinary professional accomplishments. These prominent young alumni are nominated by an academic college and invited by the University President to return to campus to share their expertise, demonstrating that many Penn State alumni succeed exceptionally at an early age. The award is a cast bronze medallion and framed certificate.
Guk left his home in Belarus to escape religious persecution in the then-Soviet Union in 1997, following two sisters to the Harrisburg area. He first enrolled in English as a second language studies at Harrisburg Area Community College where he later added computer and general education studies. He transferred to Penn State Harrisburg in the fall of 1998 and graduated with a bachelor's degree in Computer Science in 2000.
While at Penn State Harrisburg, Guk was approached by classmate Mounir Elabridi on a concept for creating an Internet company. Guk joined Elabridi to form the firm which would become Webclients. That company, which started in the basement of a Harrisburg hotel, was sold in 2005 for $141 million to ValueClick, a California-based leader in Internet marketing.
Guk and former Webclients associate J. Alex Hartzler committed $50,000 to establish a Trustee Matching Scholarship at Penn State Harrisburg. The scholarship aids deserving Computer Science majors.