The interdisciplinary approach of this program helped me expand my work and interests outside of my more centrally focused undergraduate education while simultaneously introducing me to specific topics that have shaped my sense of my research and identity as an academic. The courses and faculty members in this program are demanding but extremely rewarding. From the very first class, this program encouraged me to take on research in which I was truly invested and interested. The openness of the faculty members and the program's structure to varying research interests is absolutely invaluable to those looking to continue to doctoral work, but this program is equally worthwhile for those outside of strictly academic environments looking to become better humans and understand more of humanity.
Penn State Harrisburg's humanities program was incredibly beneficial in tailoring my coursework to fit my individual academic interests and needs.  A combination of independent study and prerequisite courses allowed me to design a master's thesis that focused on twentieth century American proletarian women writers.  I find myself regularly bringing this educational background to the English courses that I teach.  The humanities faculty and close-knit student body equally contributed to my positive graduate studies experience.
This program suited my needs to perfection.   I absolutely loved every class I took  - art history, American history, Victorian literature and more, from my first class – visiting museums in PA and studying American arts and crafts, to finishing work on my master's thesis and project. As a Latinist and quiltmaker, I was encouraged to incorporate my specific skill set and intellectual bent into my thesis and finished master's project.   The professors are knowledgeable and passionate and they really help to develop students' understanding of what it is to be human, via the study of humanities.
My experience in the humanities graduate program at Penn State Harrisburg was profoundly shaped by the faculty members I worked with throughout my course work. Some offered the intellectual space to develop and hone my methodological skills within the humanities. Others encouraged me to rigorously re-imagine the humanities as a place of creative philosophical inquiry and the site of incisive critical engagement in public discourses writ large. The inheritance of my methodological training and academic mentoring continue to guide my doctoral work and critical pedagogical practice in institutions of higher education in the US and abroad.
If you are considering a Master's program, search no further than the humanities program at Penn State Harrisburg.  I thoroughly enjoyed my time here and I am certain you will too.  The program has knowledgeable and caring faculty who were always willing to assist and challenge me in my studies.  It was in many of my classes through this program that I really learned what thinking cognitively meant in the various interdisciplinary areas I was interested in.  I am proud of my master's production on my identity because of the opportunity it provided me to understand myself by utilizing what I had just learned through this program.  I would not exchange my education at Penn State Harrisburg for anything.
When I entered the humanities master's program at Penn State Harrisburg, I knew that I loved to write about society and visual culture. By the time I completed the program, I realized that I enjoyed creating art, as well, and, more significantly, that I had a true passion for research. I had the freedom and opportunity to bring all of these interests together in my creative thesis—an exhibition of works based on my research on American food culture and food advertising.  The one-on-one attention students receive from expert faculty at Penn State Harrisburg is phenomenal, allowing students to explore new intellectual and creative avenues in meaningful ways.  That certainly was true for me, as I prepared my creative thesis.  That project has led to fulfilling work in the year since, and I'm grateful to Penn State Harrisburg faculty for opening these intellectual and creative doors.
During my time at Penn State Harrisburg I had the opportunity to be part of a vibrant intellectual community. I enjoyed each and every one of the exciting and challenging discussions in the graduate courses in the humanities master's program. I also got to meet great people from many different backgrounds. Additionally, my journey at Penn State Harrisburg made me discover my love for the academic life and strengthened my profile in preparation for my Ph.D applications. I am convinced that my experience at Penn State Harrisburg helped me to be accepted to the Spanish and Latin American Literatures Ph.D program at Duke University. I am very proud of having been part of Penn State Harrisburg and I am very grateful for all that I learned there.
Penn State Harrisburg's humanities master's program offers the rare and valuable opportunity to combine interdisciplinary course work with creative writing.  As a high school English teacher, I wanted a broader background in literature, history, cultural studies, art and critical theory, while at the same time the freedom to explore the genres I teach by writing in them myself. In this program I had the flexibility and faculty support to accomplish these goals. Instead of writing a traditional thesis, my final portfolio included a collection of short stories, a script for a musical, a portion of a novel, and an essay on how the creative process differs for each of these types of writing. This program changed the way I approach literature in my classroom.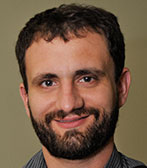 My time in the humanities master's program at Penn State Harrisburg really shaped my academic and professional career. The coursework was both challenging and intellectually engaging, and the interdisciplinary model of study emphasized in the classes I took has served me in countless ways as a doctoral student and a scholar. Perhaps more importantly, the mentoring I received from the faculty has proven to be invaluable to me. I still find myself drawing on not only my  classroom experiences, but conversations with the professors about working in the academic world.
In the humanities master's program at Penn State Harrisburg, I was expected to read difficult works and was asked to write in a critical and thoughtful way.  I interacted with several of my professors outside the classroom and engaged in regular conversations about art, culture, and ideas in the classroom.  Most college programs prepare you for a job while a few others prepare you for everything else.  Having worked for a university for 13 years, I'm glad I was prepared for the everything else.