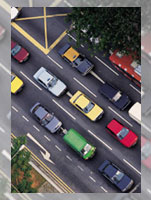 Environmental, Urban, Regional, and Community Studies cover issues of landscape, geographic, and settlement patterns in American experience and their cultural connections. Located in a region with diverse landscapes and settlements, Penn State Harrisburg encourages students to conduct fieldwork and analyze the relationship of environment to culture, especially in material and visual culture.
Relevant coursework at Penn State Harrisburg includes:
AM ST 050 The Literature and Lore of Mining
AM ST 320 Pennsylvania Studies
AM ST 321 American Indian Studies
AM ST 404 Industrial America
AM ST 417 American Beliefs and Myths
AM ST 421 American Philosophy
AM ST 439 American Regional Cultures
AM ST 460 American Art and Architecture of the 17th and 18th Centuries
AM ST 461 American Art and Architecture of the 19th Centuries
AM ST 462 American Art and Architecture of the 20th Century
AM ST 499 Foreign Studies
AM ST 531 Material Culture and Folklife
AM ST 551 Seminar in Local and Regional Studies
AM ST 592 Field Experience in American Studies.