December 3, 2014
Schwab Family Holocaust Reading Room, Library
An eruv is a symbolic Jewish boundary that embraces a neighborhood. Jews who follow rabbinic law refrain from performing certain activities on the Sabbath, the day of rest. One of those rules forbids carrying things from public to private spaces. In practice, this prohibits parents from carrying children or pushing strollers to either a synagogue or a friend's house for lunch. Of course, a parent can carry their own children in their own house. But what about in their yard? Well, if there is a fence around the yard then the outdoor space is clearly part of the private home. Suppose that their neighbor also has a fence. If there is a gate between the two properties, then both properties can be thought of as within one larger fence and therefore as one blended home. This fenced-in area is an eruv. The images shown here are maps of eruvin (the Hebrew plural of eruv) that embrace large neighborhoods blending many houses into one communal home on the Sabbath. But instead of building a fence around a neighborhood, something quite impractical, rabbinic law allows a wire to be stretched around the neighborhood. This line becomes a symbolic "fence" that does not in fact stop anyone one from coming and going. In these paintings, the silhouette of each shape is stitched with blue thread to emulate that wire. This law is followed all over the world and has been for thousands of years. Here and there, then and now.
This exhibition is part of programming organized by the Penn State Harrisburg Center for Holocaust and Jewish Studies under the direction of Dr. Anthony Bak Buccitelli. The Center acknowledges the support of Dr. Mukund Kulkarni, chancellor, Penn State Harrisburg; Dr. Kathryn Robinson, director of the School of Humanities, Penn State Harrisburg; Dr. Gregory Crawford, library director, Penn State Harrisburg; Irwin and Nancy Aronson, Dr. Madlyn Hanes, Neil Leifert, Kurt and Doris Moses, Linda Schwab, Harry Yaverbaum, and Eileen Zagon.
Lead Scholar: Dr. Simon J. Bronner
Curator: Katie Holmes
Administrative Support: Rachel Dean
Graphics: Sharon Siegfried
Website: Center for Holocaust and Jewish Studies
About the Artist: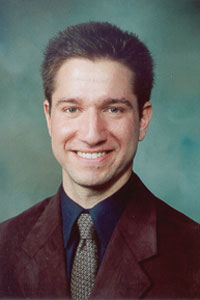 Ben Schachter is professor of visual arts at Saint Vincent College. His artwork explores the relationship between Jewish laws, customs and contemporary art. His work has been shown at Yale University, the Jewish Museum, Yeshiva University Museum and throughout the United States. Currently he is working on a book titled "Jewish Art Theory." He lives in Pittsburgh with his wife and four children.