November 2011 - May 2012
Schwab Family Holocaust Reading Room, Library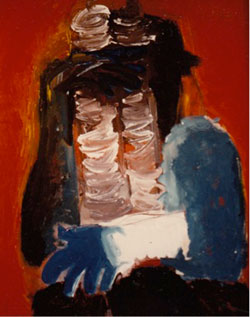 As We Remember is a journey through the Holocaust and the embers of its afterimage in paintings accompanied by poems. "Waiting," "Until Shiloh Comes," "Naming the Unnamed," "Sound A Mighty Blast," "Who Will Light the Lamp," "Kaddish" and other works on display recall what was lost but lives now as part of us, in our mind's eye and ear, and the heart's beat of compassion. The paintings are expressionist rather than photo-realist. We are so constantly confronted by explicit images of great intensity, whether online, in newspapers, the movies, or on television, that the emotional content is drained, be they pictures of hunger, war, or beauty. We no longer respond to them. Familiarity gradually becomes a protective wall between the images and the senses. In As We Remember, color, line, and form express the feeling of an image rather than a visually precise rendition. A dynamism, not pre-structured by totally familiar forms, links the viewer, object, and painting-as-object. The poems trigger further images and offer a glimpse of interpretation.
As We Remember is dedicated to Dr. Helen Adolf, Dept. of German, Penn State, and Dr. Richard D. Abraham, Dept. of Foreign Languages, Univ. of Miami, both of blessed memory.
The exhibition is part of programming organized by the Penn State Harrisburg Holocaust and Jewish Studies Center. The Center acknowledges the support of Dr. Mukund Kulkarni, chancellor, Penn State Harrisburg; Dr. Kathryn Robinson, director of the School of Humanities; Dr. Gregory Crawford, library director; Dr. Madlyn Hanes, Eileen Zagon, Kurt and Doris Moses, Harry Yaverbaum, Linda Schwab, and Irwin and Nancy Aronson.
Lead Scholar and Curator: Simon J. Bronner
Assistant: James Oudenhoven
Administrative Support: Ella Dowell
Graphics: Sharon Siegfried
Website: Center for Holocaust and Jewish Studies
Virgina Parkum
Virginia Cohn Parkum embodies "east meets west" as researcher, artist, poet and Buddhist teacher. Her doctoral studies (University of Mannheim, Germany) and work have focused on participatory democracy and community, themes reflected in her poetry and paintings. She presented the multimedia "Art to the Heart: Using the Arts to Explore the Politics of Prejudice" to the American Political Science Association and leads workshops in meditation, Zen painting, imagery in Buddhist art, and "As We Remember."
She has had shows at Bella Vista Gallerie, Denmark; Yale University; WITF, Harrisburg; and New Beginning Gallery, Lancaster, among others. Her awards include being named an Outstanding Woman in Pennsylvania by the Pennsylvania Commission for Women and JumpStreet/Pennsylvania Partners in the Arts grants. Her works are in the collections of Murray Insurance, Lancaster; Penn State Harrisburg; Nordisk Collegium, Copenhagen and the University of Mannheim.