November 1, 2012-May 1, 2013
Schwab Family Holocaust Reading Room, Library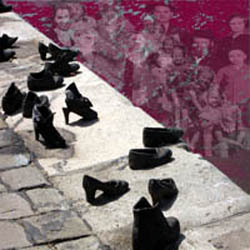 A visit to Eastern Europe in the spring of 2007 had a profound effect on me. Visiting the beautiful countryside of Hungary, Austria, and the Czech Republic and experiencing the lovely, sophisticated cities of Budapest, Vienna, and Prague left me with a deep sadness that I could not explain. Being in the places where the Holocaust actually happened made me mourn the losses of World War II in a more personal way than ever. Lavish, big synagogues in the wine country of Hungary, now void of Jews, have become state-run arts and cultural centers with no recognition of their former use. Once thriving with vibrant Jewish communities, these orphaned synagogues left me feeling very depressed, with little hope for a future of Jews in Europe. Seeing Terezin and walking the grounds that held so much pain and death, even though the Nazis showcased Terezin as the "model concentration camp," transformed the full range of my perceptions – my visual as well as emotional sensibility. 
The exhibition is part of programming organized by the Penn State Harrisburg Center for Holocaust and Jewish Studies under the direction of Dr. Simon J. Bronner. The Center acknowledges the support of Dr. Mukund Kulkarni, chancellor, Penn State Harrisburg; Dr. Kathryn Robinson, director of the School of Humanities, Penn State Harrisburg; Dr. Gregory Crawford, library director, Penn State Harrisburg; Irwin and Nancy Aronson, Dr. Madlyn Hanes, Neil Leifert, Kurt and Doris Moses, Linda Schwab, Harry Yaverbaum, and Eileen Zagon.
Lead Scholar: Simon J. Bronner
Curator: Jamie Hirami
Administrative Support: Ella Dowell
Graphics: Sharon Siegfried
Website: harrisburg.psu.edu/center-for-holocaust-and-jewish-studies
About the Artist: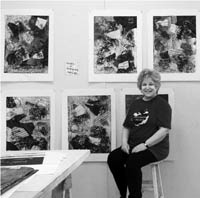 Linda Dubin Garfield is a Philadelphia artist who creates works on paper that combine traditional printmaking, mixed media, and digital technology based on her love of travel, the mystery of memory, and the magic of place. She has exhibited her art widely, including solo shows at Gratz College, Temple University, and Jewish Community Centers in Providence, Rhode Island, and Miami, Florida. Her work has also been selected for the juried Art of the State exhibition at the State Museum of Pennsylvania.