This series of eleven prints by Israeli artist Ardyn Halter addresses the Shoah (Hebrew: genocide of Jews during World War II) from the vantage of children of survivors. The images are not a reflection of Halter's memory, as they depict relatives he never knew. Instead, Halter relied upon six small photographs to portray a family who was not part of his actual experience. The photographs, taken in the 1920s-30s, are the only images that survived of the Halter family of Chodecz, Poland.
Halter received the family photos from his grandfather's sister more than twenty years ago. He found the photographs "frustratingly flat." Thus, the people in this series are two-dimensional and are not shown as living persons. He states, "They [his relatives] live in the same way as still life. I could come no closer to them than to those photographs." The viewer, therefore, is confronted with vacant, sad eyes and a representation of the lost, lonely, and lifeless. From The Family I Never Knew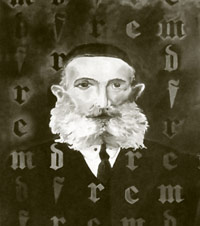 To represent the form of the perpetrators, Halter placed the images of his family within the context of Nazi anti-Semitic slogans. The hard, crisp gothic letters and words act as a powerful frame around the people or as a veil to obscure them. Halter hopes his art will challenge viewers to reassess their responses to the Holocaust. Although no violence is shown, themes of incipient danger and the consequences of hateful rhetoric are present. These are themes that continue to be relevant in today's society.
The exhibition, "The Family I Never Knew," is part of the programming organized by the Penn State Harrisburg Holocaust and Jewish Studies Center. The Center acknowledges the support of Dr. Madlyn Hanes, Chancellor, Penn State Harrisburg; Dr. Kathryn Robinson, Director of the School of Humanities; Dr. Gregory Crawford, Library Director; Linda Schwab; and Irwin and Nancy Aronson.
Lead Scholar: Dr. Simon J. Bronner
Curator: Sheila A. Rohrer
Administrative Support: Ella Dowell
Graphics: Sharon Siegfried
Website: Center for Holocaust and Jewish Studies
About the Author
Ardyn Halter
Born in London in 1956 and educated at Cambridge University, Ardyn Halter now is based in Pardes Hanna, Israel. With Roman Halter, he created Yad LaYeled at The Ghetto Fighter's Museum (Western Galilee, Israel). The Armored Corps Memorial Site and Museum, Latrun, Israel, commissioned his sculpture, Your Fellow Man. In 2004, he designed and made two monumental stained glass windows to commemorate the 1994 Rwandan genocide. They form part of the National Genocide Memorial in Rwanda. Lund Humphries of London published his book, The Water's Edge. His works are in several international collections, including The British Library, The Israel Museum, The National Library of Ireland, The Victoria and Albert Museum, and the New York Public Library.