June 13, 2014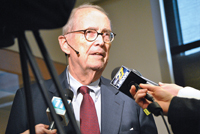 On March 28, 1979, the worst accident in commercial nuclear power history in the United States began unfolding at the Three Mile Island (TMI) plant outside Middletown, Pa.  The events of the ensuing week would rivet the attention of the world on the Harrisburg area.
The disaster would profoundly impact the future course of the nuclear industry, and forever change the lives of thousands of people. Many of these voices converged during TMI@35, held at Penn State Harrisburg, March 27-28, to commemorate the 35th anniversary of the accident and look at the incident from a current perspective. The seminar brought to campus a diverse cadre of expertise and opinion to critically assess the lessons learned, and what they mean today, in an era in which homeland security includes a focus on resilience to disasters.  Here are some of the voices heard at the conference:
"As I had in professional endeavors … I wanted the facts as best as they could be determined and as quickly as they could be identified. In the case of Three Mile Island this would prove to be far more difficult than any of us had imagined."
Dick Thornburgh, Pennsylvania Governor, 1979-1987 
"The conference showed how important emergency management and crisis communication such as in the TMI accident 35 years ago continue to be in the era of homeland security. We need to be aware that homeland security is based on an all-hazards approach, and that it must be geared towards meeting the citizens' demands, beyond abstract analyses of risk. The citizens are the ultimate end users of both homeland security policies and research output."
- Alexander Siedschlag, Professor and Chair of Homeland Security, Penn State Harrisburg
"Nuclear power, like no other form of man-made power, generates within the human psyche a feeling of awe-inspiring fear of what man has created."
– Hannah Spector, Assistant Professor of Education, Penn State Harrisburg
"His choice for this task was Harold Denton, my friend and one of America's great public servants. The choice turned out to be a near perfect one, and his arrival later in the day would represent a turning point in the crisis …."
– Thornburgh, on President Jimmy Carter's selection of a personal adviser during the TMI crisis
"My whole staff was very stressed about being here. We thought we had built a review process that was capable of keeping accidents from happening."
– Harold Denton, President Carter's personal adviser during the TMI accident who at the time was Director of the Office of Nuclear Reactor Regulation, U.S. Nuclear Regulatory Commission
"Another big improvement was the president's establishment of FEMA, the Federal Emergency Management Agency. He did that a few days after his visit here."
– Denton
"Preparedness begins at the local level. All disasters are local, that's where it starts. Everything else is support. You can't plan in a vacuum."
– Kevin J. Molloy, Federal Emergency Management Agency (FEMA), National Integration Center, retired; Dauphin County Civil Defense Director during TMI accident
"What I really was starting to learn is that there are connections and there are complex issues and complex answers … you have to be ready to really look at the issue and educate yourself …. I went from being a neighbor, to a victim, to an activist, to a scholar and I'm back to being a neighbor."
– Catherine A. McCormick, Instructor in Communications and Humanities, Penn State Harrisburg
"Plants are much safer today from all the lessons that we learned at TMI."
– Denton
"While he (Denton) was on his way up to Pennsylvania, his colleagues in Washington finally referred publicly to the theoretical possibility of a meltdown - an accurate but poorly handled statement - that caused even the most credible of all Americans in those days, Walter Cronkite, to lead the CBS Evening News by saying 'We are faced with the remote but very real possibility of a nuclear meltdown at the Three Mile Island nuclear energy plant.' One could almost feel a collective shudder going through the citizens of Central Pennsylvania."
– Thornburgh
"TMI taught us that multiple components will fail, instruments won't work, hydrogen will blow up, and containment will fail. Guess what, the same thing happened at Fukushima (in 2011). What have we learned in the last 35 years?"
– Arnie Gundersen, Fairewinds Energy Education 
"They (activists) also work very hard to understand nuclear technology. … In fact I can't think of one who did not in some way say - that they pretty much read everything they could get their hands on."
– Holly Angelique, Professor of Community Psychology and Social Change, Penn State Harrisburg
"The middle of the crisis is the time to be able to pull off the shelf a thoughtful game plan that you put together so that the people … doing the work that needs to be done, are doing it in a well-planned fashion."
– James M. Loy, Chairman, Penn State Homeland Security Advisory Council; Former Deputy Secretary of Homeland Security
"One of the things we have found is that having all of the voices at the table is really important. That's what this conference and other opportunities like this allow to happen. Not having a diversity of opinion at the table is not a good thing. It results in groupthink."
– Marci Culley, Assistant Professor of Psychology, College of Coastal Georgia
TMI@35 sponsors included: Penn State Harrisburg Schools of Public Affairs, Behavioral Sciences and Education, and Business Administration; Penn State College of Medicine; and Penn State World Campus – Inter-college Master of Professional Studies program in Homeland Security.
View photos from the TMI@35 conference.
Read news coverage from the TMI@35 conference here: