July 23, 2014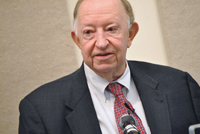 In a crisis you want a leader who is calm, unassuming, and honest. You want someone just like Harold Denton, said Dr. Holly Angelique, professor of community psychology at Penn State Harrisburg.
Denton, a nuclear engineer who had no experience dealing with the public, wasn't flashy or loud or famous. But when the Three Mile Island (TMI) nuclear power plant suffered a partial meltdown in March 1979, Denton was the perfect person to explain the situation to a panicked public.
The public, it turned out, loved Denton. They sent him letters, photographs, and memorabilia. They requested autographs, and wrote poetry and short stories about him. He was even satirized on Saturday Night Live.
"People saw him as a savior and a rock star," Angelique said.
She studies leadership style and why Denton's worked so well. She thinks a commander with his attributes could reassure people about modern crises like Hurricane Katrina or the Fukushima Daiichi nuclear disaster in Japan.
Effective leadership is essential to restoring community cohesion, Angelique says. "We need models of effective leaders that can gain support across conflicting groups and competing political interests. This is especially important when considering environmental issues, such as nuclear power, that are politically polarizing."
Nuclear Crisis
During the TMI crisis, people in South Central Pennsylvania – and the nation – were scared. Government and plant officials had been changing their messages throughout the emergency: stay inside, evacuate, don't evacuate, the danger is over, the danger is worse than expected. People felt officials were being condescending and secretive and held little confidence in their leaders or the information they released.
Some Pennsylvanians stayed put; others fled, not knowing whether they could ever return, Angelique said. "I've heard of people who drove hundred of miles to relatives and were asked to strip naked outside before they came in, for fear of radioactive contamination. I think that captures some of the fear."
In the wake of this potential public catastrophe and public relations nightmare, the Nuclear Regulatory Commission officials needed someone who could explain the crisis to politicians and the public, she said.
They called in Harold Denton, who arrived on the scene two days after the crisis started.
Denton, 43 at the time and  a nuclear engineer who had been in Washington, D.C., wasn't sent to Three Mile Island because he had public speaking experience, but because he was knowledgeable and nearby, Angelique said.
"The people immediately loved him," she added. "He made a connection with people on both sides of the aisle, the anti-nuclear people, the nuclear folks. They all felt like he was telling the truth."
He was a quiet, unassuming, intelligent man who loved anything to do with atoms, Angelique said. Denton brought community cohesion. He explained things simply but didn't talk down to the public. He just had a natural way of being able to translate nuke speak into everyday language, she said. His presence on TV every night comforted and calmed people.
They began to write him letters. Some gushed. Some wrote him time and again, telling him about family vacations and illnesses. One woman sent him a shoo fly pie.
Angelique discovered more than 200 of these letters in the Pennsylvania State Archives, where Harold and his wife, Lucinda, had donated them. With one of her students, Angelique examined each letter to understand the characteristics that the public most valued in Denton's leadership.
They praised his calm, his honesty, and his professionalism. The words "trust," "truth" and "pray" came up again and again in the letters, as did "calm," "cool," "honest" and "knowledgeable."
The Letters
The handwritten letters are a window into another time. The notes are surprising for their intimacy and admiration, Angelique said.
One read: "My nights...have been spent much more restful knowing you are in command...your warm smile, gentle manner but firm and
knowledgeable control has been a pillar of strength... thank you from the bottom of my heart."
Another read: "When you spoke everything stopped, in the midst of terror you were our only calming factor, I wanted to hear more...never would have tired of your face, voice or positive manner...if you said evacuate, we were ready...."
Denton's wife Lucinda answered every letter, sometimes establishing correspondences that went on for months. She was the unsung hero, with the ability to make people feel cared for, like family, Angelique said. Some letters praised Lucinda, mentioning her sacrifice or referring to her as the dutiful wife.
"Your gifted husband...a national hero," one fan wrote. "I love your husband, Mrs. Denton. Thanks for sharing him." Another wrote that she felt as if she'd known Lucinda all her life.
Denton probably didn't realize what an impression he made while in the limelight.
"My sense was there was almost no time to be uncomfortable," Angelique said. "I don't think he ever expected this would turn into his 15 minutes of fame. I think he was trying to do a job."
Angelique specifically described one example of Denton's calm under pressure.  President Jimmy Carter was on his way to Three Mile Island to assess the damage and calm the public. The two top mathematicians disagreed on what to tell the President about the accident.
"One had a calculation that there was a hydrogen bubble inside ready to blow. Even today, by conservative standards, they came within 40 minutes of a meltdown," she said. "The other guy was saying 'No, we still have time.'"
As the President's plane was landing, Denton said, "We're going to tell him both calculations."
"Harold was very trustworthy and he was telling the truth. That came out over and over again," Angelique said. "He seemed calm under pressure. He did not seem rattled, even when the news was bleak. He listened to people and answered their questions to the best of his ability."
He took seriously his role as the man to calm the public.
As the plant stabilized, workers had to vent radioactive krypton gas, further scaring the public who had heard wildly varied reports about how much radiation they had already had.
"Harold Denton took Lucinda and his children, and while they were venting gas, they had a picnic on the grounds of Three Mile Island,"Angelique said.
A Researcher's Twist of Fate
Angelique met Denton in person through a twist of fate.
In 2009, for the 30th anniversary of the accident, she taught a TMI Special Topics class.  A student in the class knew Denton, and eventually Angelique met Denton and his wife face to face.
"At first I don't think Harold had much trust in me," Angelique said. "Most of my research up until this point had been with anti-nuclear people: community mobilization, what it's like to be an activist, social power dynamics that benefit the Nuclear Regulatory Commission. I told him from the beginning, I consider myself anti-nuclear, but I'm also an academic."
But the Dentons met her with the same open, unassuming nature they had shown the nation 30 years before.   
Angelique and Denton were reunited again this past March, when both spoke at Penn State Harrisburg's symposium, TMI@35: The Three Mile Island Nuclear Crisis in Perspective. Commemorating the 35th anniversary of the TMI accident, the symposium brought to campus many experts to assess the lessons learned from Three Mile Island. Several conference speakers, including former Gov. Dick Thornburgh, called Denton the "hero" of the TMI crisis, confirming again what Angelique's research revealed about how Denton was viewed.
The Next Rock Star
Angelique continues to examine commanders during natural and man-made emergencies as her research on leadership progresses. She hasn't been impressed.
"We need strong leadership now," she said.
Read news coverage from the TMI@35 conference here:
http://www.pennlive.com/midstate/index.ssf/2014/03/tmi_35_years_later_penn_state.html
http://www.ydr.com/business/ci_25397280/penn-state-harrisburg-mark-anniversary-tmi-unit-2
http://www.pennlive.com/midstate/index.ssf/2014/03/frmr_gov_thornburgh_recalls_ev.html#incart_m-rpt-1
http://fox43.com/2014/03/27/psu-harrisburg-looks-back-on-tmi-accident-35-years-ago/#ixzz2xGL9fCQz
http://www.pennlive.com/midstate/index.ssf/2014/03/tmi_three_mile_island_35th_ann.html
http://stateimpact.npr.org/pennsylvania/2014/03/28/three-mile-island-35-years-later/
http://www.poconorecord.com/apps/pbcs.dll/article?AID=/20140327/NEWS/140329770