Penn State Harrisburg
Penn State Harrisburg celebrates "We Are Weekend" with food, fun, and a touch of nostalgia
Penn State Harrisburg welcomed more than 1,000 people – alumni, families, and friends – to campus to celebrate the college's 50th anniversary at "We Are Weekend: Alumni Open House," October 14 through 16. The event was one of more than 50 events the college is hosting in recognition of our anniversary year. Music, food, reunions, games and activities filled the campus as alumni got the chance to reconnect with old friends, tour new and traditional spaces and see just how much the college has changed over 50 years! Highlights of the weekend included the Alumni Awards dinner, a concert featuring Beatles cover band "Britishmania," tours of Meade Heights, and nostalgic memorabilia displays. See photos of the people, places, and activities.
Thanks for the Memories!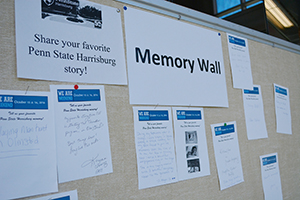 During "We Are Weekend," Penn State Harrisburg alumni (and a future Penn Stater) shared what they loved during their time at the college. Here are a few highlights.
"My favorite story from Penn State Harrisburg is starting the theater program in Olmsted. Best thing ever! Long live the arts."
– Kayma, Class of 2011

"I love Nittany and my mommy and nonna work here. I go to school here, too!"
– Audrey, Future Penn Stater
"Rushing for ΦΣΦ. Best experience ever."
– Kashif Gbaya
"Traying! We 'borrowed' cafeteria trays to sled down the hill outside of Church Hall."
– Helen Dougherty Klinger, Class of 1982
"
In 1993, the first Model United Nations conference was held at the Capitol campus. The following year, the International Affairs Association was established as the sponsor. In 2017, the 45th conference will be held.
Thousands of high school students have attended these conferences."
– Dr. Clem Gilpin
"Chartering Zeta Phi Beta Sorority, Inc. Reactivating cheerleading. Loved every memory here at Penn State Harrisburg."
– Darkeshan, Class of 2014
"Growing up on campus since I was 2. Seeing this place grow and grow and being able to be a part of it all. So proud of us!"
– Andrea Hoerner, Class of 2005 and 2013
"Kirkland Ave in Meade Heights!"
– Michelle Ginther Benulez, Beth Finley Yaresh('82), and Donna Brehony ('81)