November 2, 2007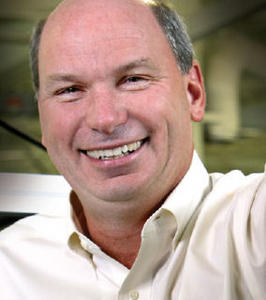 Ask Harrisburg entrepreneur Doug Neidich what adivce he'd give to young people starting out in careers, and he references this quote from Albert Einstein: "There are two ways to live: you can live as if nothing is a miracle; you can live as if everything is a miracle". He adds "you have to get yourself in the second group."
Neidich sees himself in the group. But listen to him for a little while and you find he lives by a few other guiding principles as well. Phrases like "do the right thing," and "seize the opportunity" come up frequently in conversation with him. And when you observe what he's done and why, you see he has more than one good lesson to teach.
Neidich's interests lie in seemingly unrelated industries: electronic connectors, real estate development, and solar energy. Understanding how he became the general manager of Amphenol InterCon Systems, Inc. is easy when you learn his background. But understanding how the rest fit in requires a little insight into what Neidich thinks is important.
He began working at AMP, Inc. (now Tyco), a world-known electronic connector company, in high school and in the summers during college. In 1980, he graduated from Penn State with a bachelors degree in mechanical engineering and immediately landed a job with Berg Electronics.
There Neidich developed interconnection systems (products that connect different parts of electronic devices) for a company that made supercomputer systems that were the "fastest machines in the world." he says. That work blossomed into the opportunity of a lifetime, when the company, Cray Research, approached Neidich about working for them independently to develop the interconnection systems of the future.
Seize the opportunity
"I was in my late twenties," Neidich explains, "and I decided that these sorts of opportunities don't come up very often, so I jumped at it." Neidich joined with a partner in 1987 and started a new company, InterCon Systems, in the partner's garage "with a couple thousand dollars of our own money." After a year of 16-hour days, they had a prototype.
InterCon started with one solid customer, sound technology, and little overhead; today, the company boasts $25 million in annual sales and 400 customers, including technology heavy hitters like IBM and HP. In many cases, InterCon is a sole source provider to those customers. InterCon eventually branched from strictly developing technologies for data processing, to work in avionics, consumer and medical electronics, and telecommunications. But they continued to focus on developing only high-end products. "When you talk to someone at IBM or HP, they recognize our business as one that has technology they need for the next generation," Neidich says.
In 2005, Neidich jumped on another opportunity. With InterCon's growth and reputation as a problem solver came a number of suitors interested in purchasing the company when Neidich was also looking to expand the business. He settled on Amphenol, one of the world's largest connector manufacturers, not because of their offering price, but because of the company's integrity and business strategy.
"They're very aggressive in their technology," Neidich says, "and they really value our technology base." He says that Amphenol also has a great track record for investing in companies and then letting them grow in what they do best.
"Amphenol's a global company; Harrisburg's the connector city of the world. When they acquired us, they got a solid technology company," he says. At the same time, InterCon gained the means to continue growing.
Penn State Harrisburg MBA graduate John Tierney helped make InterCon's sale the success that it was. Neidich hired him as InterCon's chief financial officer in 2000 when the technology market had taken a downturn. Neidich says Tierney "made the company as healthy financially as it was technologically."
So today Neidich sits as the head of a successful, global technology company. He's happy with Amphenol's strategy for InterCon and enthusiastically predicts five to 10 years of "intelligent" growth.
Still, Neidich says the most rewarding part of his experience building the company is not about profits and products, but about having the opportunity to create an environment for InterCon's 140 employees.
"My favorite part of work is being able to create a microenvironment for the people here," Neidich says. "The biggest upside to running a company, to me, is that you get to create the world for these people – define the values, define the mission, define the goals, establish the quality of [work] life, and challenge everybody to step up to that."
Tierney, who stayed with InterCon until 2005, sings Neidich's praises as someone who "actually does something about what he believes in." Tierney says, "He's a great individual – hard-working and very fair. I only wish I had met him 20 years ago."
Do The Right Thing
InterCon's success has provided the means for Neidich to pursue other business endeavors that appeal to his sense of social responsibility. There lies a clue to what really motivates Neidich.
In 2005, he joined real estate developer Tom Powers and John Tierney to create Powers & Associates, a real estate development company. They see themselves as unique, a development company with a social conscience.
Powers undertakes "urban rehabilitation," turning underutilized areas into integrated communities. Integrated communities include "all of the things that you would want to have in an area to create a high quality of life," Neidich explains. People live in the same area where they work and shop and go for entertainment. Neidich says that 100 percent of Powers' development will be rehabilitation work. "We're not going to do green field development and tear up farmland and woodland," he says. "There's plenty of that already."
But developing in urban areas comes with challenges – and associated expenses – that other development does not. Neidich explains, "When you come into an urban setting, there are many more interests involved. For example, you have to fight back opportunists, those who as soon as you begin in an area, will start grabbing up property. You have to work with the political community because public monies often are involved. Costs are just plain and simply higher."
"But at the end of the day," Neidich says, "going into community development is, to me, the right thing to do. It's creating high value, high quality of life, out of a situation that, prior to your involvement, might have been a mess."
Neidich recently found another way to satisfy his penchant for problem solving on a grand scale. He created Solarity, a company working to develop nanoscale (i.e. infinitesimally small) materials that could make solar power practical and affordable.
Solarity got its start with a Penn State connection when Neidich was introduced to Professor Steve Fonash, a world leader in the study of nanotechnology. Fonash founded the company NanoHorizons and is co-inventor of a patented technology that, according to Neidich, could solve the problems that exist with harnessing solar energy.
Although NanoHorizons held the patent to this promising technology as part of the Penn State Foundation's research portfolio, the company was looking for a business partner to explore it further. Solarity sub-licensed the technology, set up shop next to Penn State's Nanofabrication Facility, and has spent the last year on research and development.
Patience is a virtue
At its most simple, the problem with current solar cell technology is that the designs can't compete with current electrical generation technology.
Neidich says the nanotechnology-based approach offers "terrific potential" for manufacturing more efficient cells using less expensive materials. "Basically we are trying to develop the first commercially viable photovoltaic cells that would let you power any structure for less than you can from [current generation sources]," Neidich says.
"That's the holy grail. If you're successful, you could change the world, to a reasonable extent. So that's what we are trying to do," he says. "A lot of other people are trying to do it too."
How long before any such product becomes a reality? "It could be next Tuesday, it could be five years from now, you never know," he says. "The technology's pretty clear and the right pieces are out there." The answer, he says, is combining everything correctly.
Whether unlocking the key to harness the sun's energy or building tomorrow's urban communities, Neidich's zeal for what's ahead far outweighs any challenges before him. It is this belief that he can make a positive impact that ties everything together for Neidich.
"You have to find new ways to create energy while not harming the planet, which has to be a goal of this generation. It's great to be alive at a time in which technology finally has the opportunity to work to the benefit of the planet, instead of working against it, as it has since the industrial revolution," he says.
"At the same time, we need a smarter growth model that doesn't just lead to more suburban sprawl and more people driving cars," he says. "We need to restructure the way that we live – that's what integrated community development is all about." This brings us back to Neidich's first lesson on life and miracles.
"If you imagine that everything's a miracle and you find out as much about those miracles as possible, you realize there may be problems in the world but there are a lot of great things too. It's tremendous fun to try to create the right quality of life, the right environment, and care for as much of the world around you as you can."