June 12, 2014
In February, Penn State's Board of Trustees named Dr. Eric J. Barron the 18th President of the University. Most recently the president of Florida State University (FSU), Barron is a former dean at Penn State. He took the helm at the University on May 12.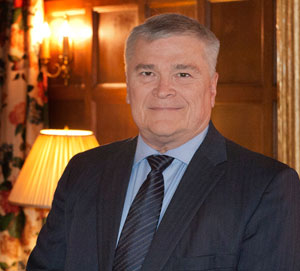 Barron, 62, brings to Penn State nearly 35 years of experience in academic administration, education, research and public service, as well as fiscal management within large and complex institutions. He succeeds Dr. Rodney A. Erickson, who in 2012 announced his intention to retire before June 30, 2014.
Barron served as FSU president from 2010 to 2014. Previously, he held a number of notable positions within higher education, including dean of Penn State's College of Earth and Mineral Sciences from 2002 to 2006, having become a member of the Penn State faculty in 1986.
"My wife, Molly, and I spent 20 years at Penn State, where I served as a faculty member, center director and dean.  In that time, I learned what it meant to continually strive for excellence – to make every year stronger than the year before," Barron said. "I also came to understand the power of this community; we are unbeatable when we are working together for a common purpose. It is an honor to lead this great University."
In the previous two decades, Barron served in various positions at Penn State, including professor of geosciences, director of the Earth System Science Center, director of the EMS Environmental Institute and dean of the College of Earth and Mineral Sciences. He also earned the title of distinguished professor of geosciences, and was named winner of the Wilson Award for Excellence in Teaching and the Wilson Award for Excellence in Research.
He is a Fellow in the American Association for the Advancement of Science, the American Geophysical Union, the American Meteorological Society and the Geological Society of America. He has received a number of national awards including NASA Group Achievement Award and NASA Distinguished Public Service Medal. 
"I am thrilled to take on the leadership role of one of the nation's most prestigious universities," Barron said. "Penn State, already well-known for its high academic standards, its innovative research, global vision and unmatched public service, is well-positioned for the future and for creating more opportunities for students, as well as the Commonwealth of Pennsylvania."
A native of Lafayette, Ind., Barron received a bachelor's degree in geology from Florida State University, a master's degree and Ph.D., both in oceanography, from the University of Miami, Coral Gables, Fla.